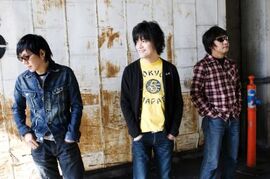 The Pillows are a Japanese alternative rock band. During their long-running career, the group has released more than a dozen original studio albums, along with several EPs, singles and compilations. The Pillows are currently signed to the Avex Trax label. Their song "Ride on Shooting Star", was featured as the ending theme to every episode.They are also the writers of many other songs that appear in Fooly Cooly which include:
"Last Dinosaur"
"Ride on Shooting Star"
"Sad Sad Kiddie"
"Carnival"
"Runners High [FLCL Version]"
"Instant Music"
"Stalker"
"Stalker Goes to Babylon"
"One Life"
"Hybrid Rainbow"
"Beautiful Morning With You"
"Sleepy Head"
"Bran-New Lovesong"
"Come Down"
"Advice [FLCL Arrange Version]"
"Little Busters"
"Crazy Sunshine"
"White Ash"
"Nightmare"
"PATRICIA"
"Blues Drive Monster"
"Funny Bunny"
"Another Morning"
"LAST DINOSAUR"
"I think I can"
"ONE LIFE" (hidden track)†
Ad blocker interference detected!
Wikia is a free-to-use site that makes money from advertising. We have a modified experience for viewers using ad blockers

Wikia is not accessible if you've made further modifications. Remove the custom ad blocker rule(s) and the page will load as expected.