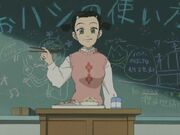 Junko Miyaji
is Naota's eccentric sixth grade teacher. Her students have given her the nickname "Miya-Jun". She seems to be constantly troubled by the shallower problems which Naota seems to create, such as the destruction of her car (which happens twice over the course of the series) or the terrible interruption of a lesson. Even on 'normal' days, however, she is pathetically inept: her attempt to teach chopstick usage to a generation of students raised on
sporks
ends with the revelation that she is unable to use them herself.
She can be viewed as symbolic of the ineffectiveness of educational institutions imparting any truly important or useful knowledge: Naota constantly characterizes the adults around him as "unable to grow-up". In his mind, Miya-Jun's inability to act like a normal adult (similar to his father, grandfather, Ninamori's father, Amarao, and many others) confirms his theory. Adults like her are contradictions in Naota's life; he wants to become an adult, but the adults around him don't act like adults at all.
A recurring gag is Miyaji's car being destroyed by a robot. In Episode 3, her red Volkswagen New Beetle is crushed when Canti jumps down on it from the school's roof. In Episode 6 she has replaced the old car with an identical one, but it gets eaten by the Terminal Core.
She is voiced by Yukari Fukui (Japanese) and Jessica Straus (English).